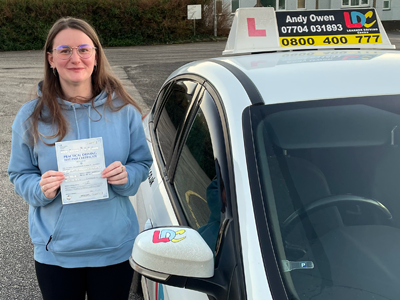 Susie Knight
Passed
Really great instructor who got me over my driving nerves and finally on the road!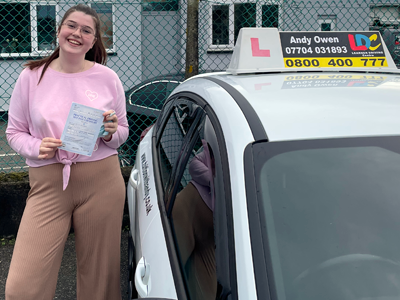 Jadene Hichens
Passed 1st Time
Cannot rate Andy enough !! He is so patient and adapts his lessons to all needs.He takes all the stress away from driving and does an amazing job at putting you at ease ! 10/10 would recommend !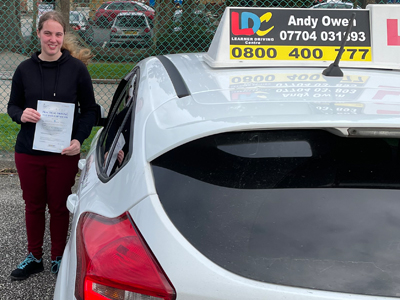 Rebecca Terry
Passed First Time
As someone who experienced a lot of anxiety about driving, I cannot recommend Andy highly enough. He is always really patient, and his sense of humour helps put nervous drivers at ease. Thanks Andy for your amazing teaching 👍and most of all, for having faith in me that I could pass 😃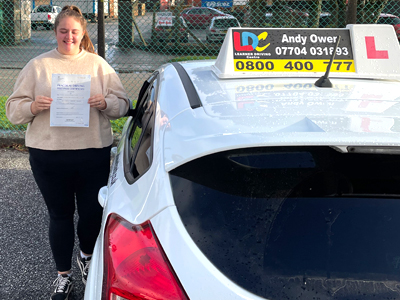 Katie Lea
Passed First Time
I came to Andy after lots of stopping and starting I was very nervous and had little confidence in my self and driving ability! After a long old slog through many different lockdowns I did it and it wouldn't have been possible with out Andy who taught me to believe in my self and trust what I know! Thanks Andy 👍🏼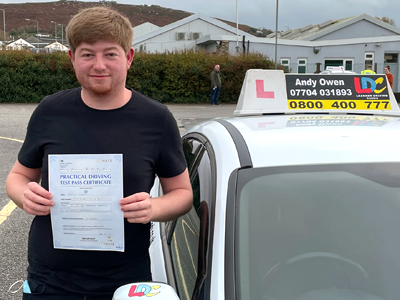 Joshua Levens
First Time Pass
Amazing teacher. Really glad I had him to help me learn to dive, and help me get past my test on the first try. Extremely happy with the whole experience! Thank you.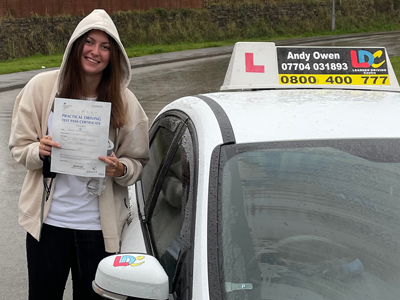 Teagan Condy
Passed 1st Time
Thank you so much Andy, I couldn't of asked for a better instructor. Always on time always professional, lessons well planned.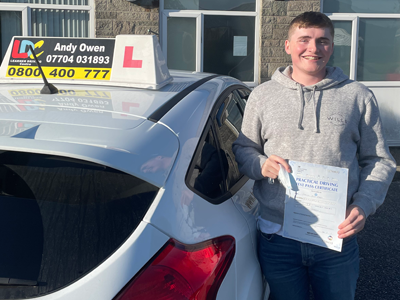 Sam Baker
Passed
Excellent teacher, in just 2 (intensive) recap sessions taught me all the skills needed to pass my test. Would definitely recommend.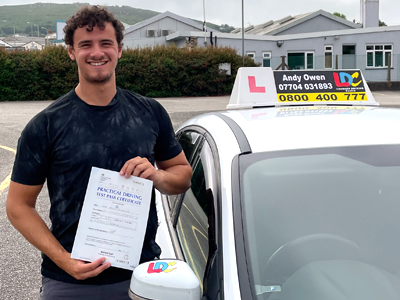 James Goldsbrough
Passed 1st time
Andy was excellent at both preparing me as a new driver and paving the road to build on a variety of challenging scenarios on the road. I learnt not just to pass my test, but how to plan ahead for every situation safely. On top of that, he was great at calming nerves (cheers for the maccies!) and helping wind down from what can sometimes be a stressful position to be in as a novice. I can't recommend Andy enough!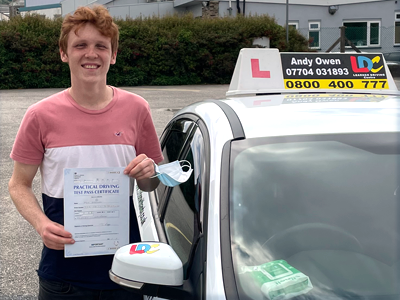 Max Sarilar
Passed 1st Time
Andy is a truly great driving instructor, his lessons were very well planned out and he helped me a lot with my confidence in the car. Extremely happy with the learning experience! Thank you so much Andy! Couldn't be happier with the learning experience. Thanks for knowing that I could do it when I didn't. :)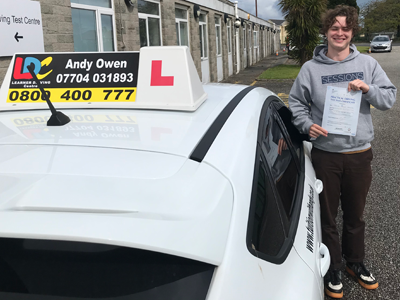 Sam Adhearne
Passed
Thank you so much Andy. Couldn't have done it without you. Your way of teaching makes it very simple and enjoyable to learn.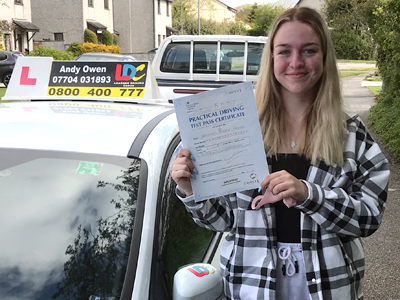 Beth Ferris
Passed 1st Time
Would definitely recommend Andy to anyone! He really helped my confidence massively and I definitely wouldn't have passed if it wasn't for all his patience and support!! Can't thank him enough for all his help support!
Aaron Ashton
Passed 1st Time
I sincerely cannot recommend Andy enough! Andy has such a brilliant way of making driving simple to understand, and his years of experience as a professional driver shows. What I appreciated most was that he aims above and beyond, not only to get you test ready, but to make you a good driver with good understanding of the information around you. Additionally he teaches you the finesse and skill that realistically comes later with driving experience, but Andy settles for nothing but the best standard. I now have the confidence to get in my car and go anywhere, a feeling I never thought I'd have. I am so thankful for the incredible support Andy has given me: and I can say with confidence it would be hard to find another instructor who can teach students to this standard.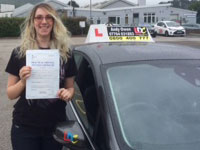 Abbie Hickey
Passed
Superb driving instructor! After a couple of driving instructors, and one who made me a very nervous driver, he helped me realise the joy of driving and is a big confidence booster - especially before a test. Always willing to listen he is more than happy to take on any criticism and adapt to make your experience helpful, progressive and hilarious with his sarcastic sense of humor. Even though I had to leave the country for a few months several times, which undoubtedly set me back with a lack of consistent experience (sorry Andy), he never let this bother him. I couldn't have asked for a better instructor to teach me how to drive rather than how to pass a test.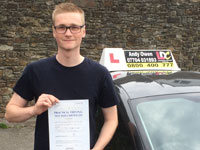 Toby Bedford
Passed
Andy is a brilliant instructor who really knows his stuff about driving. He is also very patient and explains things thoroughly so you fully understand what it is you're doing. I'd recommend Andy to anyone who's wants to learn to drive. Thank you for all your help :) Toby.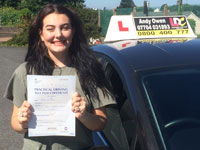 Summer Edagar
Passed First Time
Andy is an amazing driving instructor, explains things very clearly and is patient! Thank you for helping me pass first time Andy!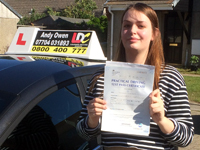 Jessica Clemens
Passed
So glad I decided to learn with Andy, he was always very patient and understanding with me and my nerves whilst learning! He always found a way to make lessons light hearted and fun with a great sense of humour and wit! Couldn't thank him enough for giving me the confidence I needed!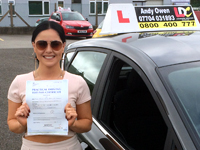 Annie-Rose Crouch
Passed First Time
Extremely relaxed, trustworthy, confident boosting, thorough and can't forget ... hilariously sarcastic driving instructor! After having a not so great experience with other instructors I contacted Andy in need of some lessons and he managed to fit me in last minute with no issues. My confidence had gone out the window before starting with Andy and he managed to win my confidence back within no time. With such a chilled and cool manner from himself, he made my lessons really enjoyable and I can happily say with a smile on my face that it was money well spent! After passing first time with Andy, I would highly recommend him to anybody wanting to learn to drive. Couldn't thank the cool guy enough for the great experience and couldn't of picked a better instructor to of passed with!!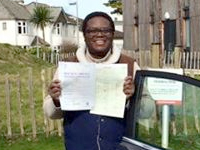 Sam
Just wanted to say a massive thank you to LDC Driving School - Andy Owen for being such a great driving instructor. Passed first time and its all thanks to God and you.
Great driving experience. He was always friendly, and gave me the confidence when learning how to fine-tune my driving. He was always ready to answer any of my questions, and I will recommend him to everyone! to God and you. Take care.